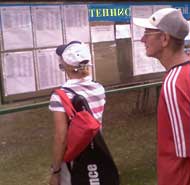 Ystok-Tournament
Ystok-Tournament is a computer-aided tournament system. It allows sports organizers to manage the athlete database, register entries, group them by gender, age, and weight, make brackets (draws), plan matches, and enter results.
Ystok-Tournament supports combat sports and martial arts as well as racket games.
Badminton.
Boxing.
Ju-Jitsu (Fighting System, Duo System, and Ne-Waza).
Judo.
Karate WKF, Shotokan, and Kyokushin (kumite and kata).
Kickboxing (Full-Contact, Low-Kick, ╩-1, Semi-Contact, Kick-Light, and Light-Contact).
Kung-Fu (Fighting, Shuaytszyao, Shuaytszyao-Payda, Tui-Shuu, and Da-Czeng).
Squash.
Sumo.
Table-Tennis.
Taekwondo ITF (Sparring, Pattern, Special Techniques, Power, Pre-Arranged) and WTF (Jirugi and Poomse).
Tennis.
Wrestling (Freestyle, Greco-Roman, Grappling, Pankration, and Beach).
Wushu (sanshou and tzinda).
The following national martial arts are supported by the Russian version only.
Russia: Sambo, Arm Fighting, Unifighting.
Kazakhstan: Zhekpe-Zhek.
The software supports both individual and team competitions. Someone may use it for teams sports (football, hockey etc.) by entering team names instead of athlete names but cannot maintain team members lists.
Main Features
Sport settings:

terminology,
scoring systems,
subsports (disciplines or styles) list,
age and weight divisions,
patterns (movements, kata) list.

The athlete database to avoid retyping entry names.
Input and register entries, record weigh-in procedure data.
Create groups (events) in singles and doubles (applies to games sports, ju-jites Duo System etc.).
Seed competitors by

ranking points,
category,
grade (dan).

Automatically randomize avoiding clashes between the fellows who delegate the same country, city, club, or follows the same coach.
Draw types (schemes):

Elimination system,
Double elimination,
Round-robin,

Pool stage.
Consolation stage types:

Feed-in (First Match, First Round),
Continuous Feed-in (Full Feed-in, Triple Plate, Compass),
Double repechage,

Contests (patterns, movements) system.
Maximum number of competitors:

256 in elimination,
10 in round-robin.

Match planning tools:

timetable editor (manually),
Scheduler (automatically).

Edit brackets and enter match results in-place.
Print and save in PDF the following document types:

entry list,
weight-in list,
bracket,
timetable (contest order),
contest record,
score-card,
standings (winners list),
diploma,
Draws broshure — combined report including all brackets and entry lists.

Additional logos can be provided on the Setting dialog and printed on every sheet.
Useful Features
Fast sport switching.
Three entry age calculation methods. Print either date of birth, or year of birth, or age column in entries lists.
Bracket Wizard assists in creating groups, pushing entries into groups, and randomizing them in bulk.
Merge Wizard assists in copying entries and groups from one tournament file to another.
For placement in round-robin, calculate the difference between won and lost sets and/or points.
Auxiliary topmost windows (palettes):

Athlete,
Entry,
Official (umpire or coach),
Match (Bout),
Photo (the athlete photos folder is selected in the Settings dialog).

File autosave.
Software Editions
Chief Edition

The most popular version for the tournament chief referee/umpire or secretary. The features described above are as of this edition.
The delivered software package supports

either one sport maybe of different styles e.g. karate,
or collection of "similar" sports e.g. ju-jitsu and judo,
or all sports implemented, aka multisport version.

Reception Edition

Simplified version for a receptionist desk with the functions limited to:

registering the arrivals on-site,
entering the results of the weigh-in procedure,
merging the updated entry data with the chief tournament file.

The version for a country-wide or regional sports federation or association.

Athlete, umpire, and coach database.
History records of athlete results, categories, certificates and the like.

The demonstrational version of a limited functionality can be downloaded for free at this page.
System Requirements
PC 64MB RAM, 20MB of hard disk space.
Windows 2000/XP/Vista/7/8/10 (32 or 64-bit).
PDF viewer.
Internet connection (optional — it is neither needed on installation nor working with the application itself).
See Also