Ystok-Sportclub
Ystok-Sportclub is a multi-user client-server application for sports club management and accounting.
The system assists in the following activities: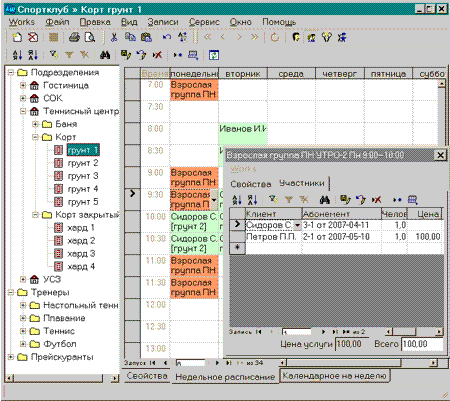 Database of customers (CRM).
Organize locations and resources (rentable sports courts/rooms or employees) into hierarchy.
Record the nomenclature of services and accompanying products.
Compile price lists and compute prices depending on the time of day.
Staff database (trainers, coaches, stringers etc.) and work history.
Schedule regular and occasional exercises and sporting events for individuals and groups of children or adults.
Prepare recurring day and week timetables for resources and locations.
Generate calendar timetables on specific days or weeks basing on recurring ones and the latest up-to-date information from customers.
Enter customer payments for club cards or specific visit, compute balance of payments.
Provide audit trail.
Produce accounting reports.
Internet publishing module
This module can generate pages on the sports club's Web site. Timetables and other information can be uploaded with one mouse click.
System requirements

Client platform: MS Windows 2000/XP/2003/Vista/7/8/10.
Server platform: MS Windows or other.
DBMS with an ODBC driver (actually tested MS Access and PostgreSQL).
Adobe AcroReader or another PDF viewer for printing and previewing timetables, price lists, and other reports.
More information is available in Russian.